Sun, 9/22 - Chef Soiree: Popina x King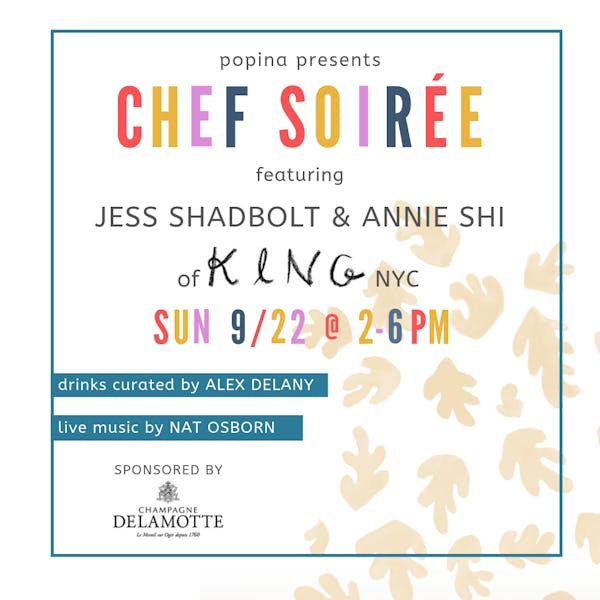 We're so thrilled to share that the Jess Shadbolt and Annie Shi of the beloved restaurant King will be joining us for one last backyard hang - what better way to close out the 2019 Soirée season and say hello to fall?
The menu - full details below - highlights what King does best: simple-yet-exciting dishes that feature the seasons' finest.
Drinks will be curated by beverage aficionado Alex Delany, with lots of Beer and Wine and Amaro (oh my!) tricks up his sleeve, plus champagne sponsored by our friends at Delamotte. And better believe fan-favorite Nat Osborn will be bringing the live tunes.
Tickets via Eventbrite are $65 and include food, two drinks, tax & gratuity.
Additional beverage - featured and otherwise - charged on consumption.
Hope you can join us! Should be a (very) great time.
Menu:
Half-Grilled Lobster with Purslane, Lentils and Aioli
Chargrilled Polenta with Blistered Rainbow Chard, Dandelion
Late Summer Tomatoes with Warm Tapenade
Octopus and Mortadella Spiedini, Pepper Vinegar
Squash with Collard Green Salsa Verde
Eggplant with Citrus Bagna Cauda